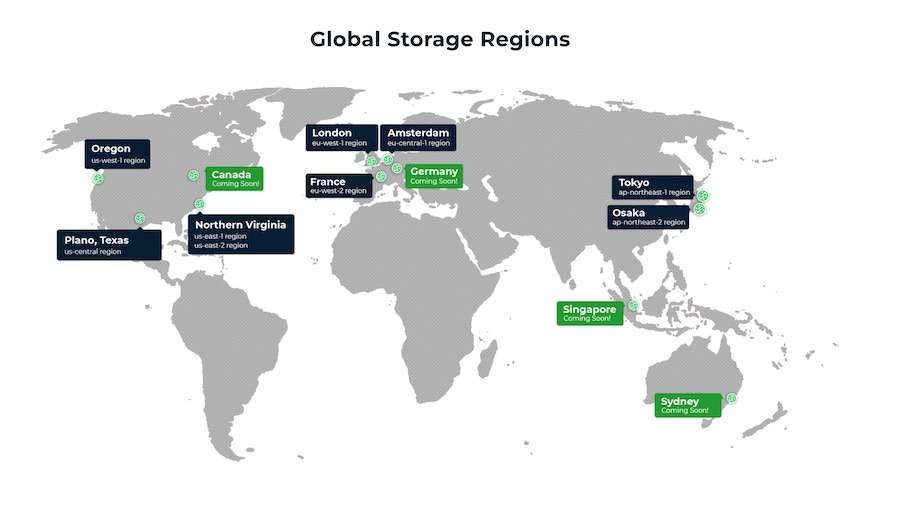 What is Wasabi cloud storage?
Wasabi is a very affordable cloud storage option for pairing with your own branded MSP backup software. Wasabi entered the cloud storage space around 2017* when it was heavily saturated by AWS S3 and GCP Storage for years (which are also great cloud storage options). Wasabi started off with just a few data centers in US East 1 (N. Virginia), Wasabi US East 2 (N. Virginia), then started expanding rapidly, in order to match the surge of growth they were experiencing from gaining so much popularity. Currently, they have the following regions available at the time of writing this article.
Wasabi US Central 1 (Texas)
Wasabi US West 1 (Oregon)
Wasabi EU Central 1 (Amsterdam)
Wasabi EU West 1 (London)
Wasabi EU West 2 (Paris)
Wasabi AP Northeast 1 (Tokyo)
Wasabi AP Northeast 2 (Osaka)
WholesaleBackup offers a very popular Wasabi backup software option that integrates directly into the cloud backup platform. As an MSP or Reseller, all you need to do is to create an account with Wasabi and generate a set of API Keys, that will integrate with your custom branded wasabi backup software, through your WholesaleBackup Reseller Portal, where you can remotely build, manage, monitor, your deployed backup agents installed on your customer's workstations and servers. Here's a link to quickly set up a free trial.
OK, let's get into –
The Top 6 Reasons Why MSP's are Using Wasabi for Cloud Storage
1. Price
Wasabi entered the market with game-changing pricing and continues to do so now. AWS S3 and GCP Storage have remained the same in their pricing stance, while Wasabi out-flanks them in all the areas.  They have a flag-ship, Pay As You Go $5.99 TB/month which they state is "Cloud storage pricing that is 80% less than Amazon S3". [wasabi]
If you look at GCP storage pricing depending on the location since the prices range from $0.020 to $0.036 depending on the region you are paying anywhere from $20.00 to $36.00 per TB.
That being said AWS S3 and GCP storage both perform very well, have more regions, networks, and are not experiencing any growing pains. They have been a solid choice for backup providers for over 15 years.
WholesaleBackup has noted that the Wasabi backup software option has been the most popular selection for its network of channel partners, resellers, and business partners. If you are looking to retain more earnings, or start creating new streams of revenue for your existing business, this combination will deliver that period.

2. No Egress Charges
Wasabi explains that – "Most leading cloud providers allow their customers to input data into the cloud for free. However, when that data is retrieved from the cloud, these providers will then charge large fees; this is what's known as a data egress."
When you are offering cloud backup and recovery services, every day the backup service will be uploading new encrypted file blocks from the changed data, and just like Wasabi pointed out – "most will not charge you for this". However, when you are in need to recover the data, which would typically be a large volume of data, especially if you consider the size of a common business's file server, those egress fees can really start to add up cutting into your profits. With the Wasabi backup option for WholesaleBackup, you'll never have to worry about losing money from restoring customers' data.

3. Speed & Performance
As with any cloud-based storage, you will have varying levels of upload/download speeds available, then you need to take into account how far the data center or regions is where your bucket resides. In addition to considering the local throughput speeds of the network and client location where the backups/restores will be occurring. One of the nice features of Wasabi is that it offers a speed test right from its own console dashboard, you can select a target region and run a quick throughput test. Here you can see that the service was using all of my available bandwidth to the Portland, Oregon region.
4. Protection
It's a great feeling to know that you can store all of your customer's backup and recovery data using a low, predictable cost model in fully secure and redundant data centers that are certified for SOC-2 and ISO 27001, PCI, and HIPAA compliant.
Additionally, the MSP backup software by WholesaleBackup implements several layers of protection, using end-to-end HTTPS encryption, all backed up files of data separated into encrypted blocks, in the storage vault. You can also enable another local on-site vault that syncs to the offsite vault. The software by design will not allow contamination of backup data to the offsite vault. So when ransomware encrypts the file system, the backup software will not send anything offsite. You can then install the backup software on a clean system and start restoring the data from the remote vault in a matter of minutes.

5. No Hidden Fees
Wasabi fees are very transparent from the get-go, $5.99 TB/month, No fees for egress or API requests. It doesn't get much more simple than that for pay-as-go cloud storage. However, if you want to take it to the next level, they also offer Reserved Capacity Storage where you can purchase cloud storage in 1, 3, or 5-year increments and achieve greater discounts for term and capacity.
WholesaleBackup utilizes this practice also, making it simple for its resellers and partners to calculate their returns, there are zero up-charges, middle-man, or hidden fees, only a month-to-month subscription, which includes all of the features.

6. It's Mission.
"Wasabi is on a mission to store all the world's data by making data storage simple, affordable, fast and secure. If you have data to store, whether it's backups, x-rays, surveillance videos, financial data, media and entertainment, or scientific data, Wasabi's pledge is to always be the cheapest, fastest, most secure and reliable cloud storage in the world. It's all we do, and we do it better than anyone."
Ready to Try Wasabi Backup from WholesaleBackup?
If you are interested in testing-out Wasabi cloud storage paired with your own business-class custom-branded MSP backup platform from WholesaleBackup, you can get started now on a fully-featured all-inclusive no-risk trial. Additionally, we also have an article about How to build a successful Wasabi backup service.  It takes about 5 minutes to get your API Keys and build a customized deployable installer for Windows and macOS.
Label & Launch Your Backup Software in 5 Mins
Start your all-inclusive, no-risk, free trial today
REGISTER