LOOKING FOR AN ALTERNATIVE BACKUP PLATFORM?
WHOLESALEBACKUP IS THE BEST –
Cloudberry Alternative

Novastor Alternative
ARE YOU USING AN ONLINE BACKUP PRODUCT WITH LOW QUALITY AND SUB-STANDARD SUPPORT?
We believe we have something to offer that will increase your profits and reduce frustration. WholesaleBackup offers customers US-based support and an excellent white-label online backup platform. Many others worldwide have selected Wholesalebackup as the alternative backup platform when shopping around for a replacement. We have a simple licensing model which can easily scale with your business as you need it, and are happy to offer you some of the most competitive pricing available for a white label backup software solution and continue to offer you savings because we do not markup any cloud storage costs.
MSPs, VARs and RESELLERS,  LOVE OUR BACKUP SOFTWARE & SERVICE
Label and launch your own turn-key Backup as a Service (BaaS) solution in 5 mins.
Our online backup resellers love the fact that they can call our tech support during US business hours, get a live person to speak with them, and move forward without delays and issues. We also hear that our partners can backup larger datasets and trouble clients with WholesaleBackup without the problems of many other platforms. If you are looking for a white label BaaS (Backup as a Service) platform, that you can re-brand and start offering cloud backup services to your customers, take comfort in knowing that WholesaleBackup has been doing this for over 15 years with our global partner network, and is dedicated to helping you save money, and run a smooth BaaS solution.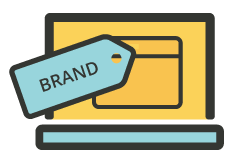 ABOUT WHOLESALEBACKUP – THE WHITE LABEL BACKUP SOFTWARE PROVIDERS

WholesaleBackup has been providing online backup software for service providers for over ten years. We are continually making enhancements and improvement to our white label cloud backup platform based on the feedback we receive from our online backup resellers, cloud backup providers, and online backup partners.
Some people ask us: "what is white label software?". The short answer is: We build the software and maintain it, we license it to you, and you put your business logo on it. That way your customers only see the online backup services with your business logo on the software, so it does not look like you are using a third party product. There is more history on the white labeling of products found here. [Wikipedia]
 MIGRATING TO A BETTER ONLINE BACKUP SOFTWARE WITH WHOLESALEBACKUP INCLUDES:
You can get started quickly, with zero equipment and costs.
Free server software licenses

Free brandable white label client

Free software support

Free upgrades

Month-to-month agreement

Central management of your backup operations with the Web Console

The ability to backup SQL

The ability to backup Exchange

The ability to backup Outlook

Includes a Local backup Vault
You will make good profits and run the business easily.
Includes a Remote backup Vault

Retention Settings

Versioning Settings

Disk imaging

Bare Metal Restore (BMR)

Windows 10 ready

HIPPA Compliant

PCI Compliant

AES 256 Encryption

Use your own server or cheap cloud storage

GET STARTED WITH A FREE TRIAL OF BEST ALTERNATIVE BACKUP PLATFORM FOR RUNNING YOUR BACKUP BUSINESS, THEN JOIN AS A PARTNER FOR ONLY $150 PER MONTH
Why resell someone else's service for pennies on the dollar when you can take all the profit for yourself?
You save time because our server and client installs are quick and simple
You save money because our licensing is simply based on how many clients you deploy
You save money because we use open source technologies so the only server licensing you pay for is our licensing
You will enjoy technology focused on reducing technical issues like self-healing storage, cutting-edge automatic optimization of file transfers, proactive alerting for you and clients, and a central management console for you as well as for your customers, so you will save time managing the backup platform
You can charge more for your service with WholesaleBackup because we offer unmatched performance with Instant Restore technology, the ability to handle huge datasets, and a Zero-config client installer to speed installs for customers.
WholesaleBackup has marketing materials for email campaigns, seminars, and videos so you can leverage our experience.