Five Reasons To Migrate Off of IDrive to WholesaleBackup
Are you looking for an alternative to IDrive? A business-class backup software platform you can white label and offer to your small and medium-sized B2B customers? If so, take a look at the WholesaleBackup platform and see if it makes sense for your business.
Unlimited free Support/Training – WholesaleBackup has provided responsive backup support to our resellers for over 15 years. Our team is all US-based so you don't have to worry about language issues, time differences, or waiting days for help. With WholesaleBackup if you ever need support it takes one simple phone call or email.
Quality – Besides excellent Support our resellers also need a platform that will provide rock-solid backups and restores. No MSP wants to sweat every time they try to bring back a customer's critical data after a machine goes down. Install a free trial of WholesaleBackup and you will see why so many IT experts trust our solution for making sure clients are protected.
Month-to-month agreement – With our simple month-to-month agreements you don't have to worry about long-term contracts, as we believe in keeping things flexible for our resellers and partners. Avoid being locked in for annual renewals and use our incremental licensing model to grow and scale at your own pace. Leverage our fixed cost per endpoint and volume discounts.
Ability to use your own storage – This is the game-changer – the storage is under your control. Self-host if you wish, or leverage our direct ports to Wasabi or S3. Either way, you will not be paying WholesaleBackup for any storage costs, what you will be paying is the raw data costs with no middleman markups, which allows our partners to factor in much more profits into their bottom lines each quarter. If you compare this to the IDrive partner program, where resellers must purchase storage in bulk up-front and then try to resell it, migrating to WholesaleBackup is a no-brainer.
Fully Branded (no co-branding) – As a reseller partner, you will be able to fully white label the customer-facing backup software, using your own brand name, and not requiring you to participate in co-branding with a vendor. Use your own logo, your own contact info, and your own Licensing and User agreements with your own content. Optionally, you are able to apply your own code signing certificate to the installer files.
Top Four IDrive Complaints
Poor Customer Support 
Slow and Unreliable
PC Backups Don't Work
Hard-to-Use Interface
Source: [crazyegg]
For over 15 years WholesaleBackup has provided a white-label backup software platform to the SMB market through a channel partner network of MSPs, IT Consulting firms, ISPs, and Tech Pros in the Break/Fix, Networking, and ISV space. 
What Is WholesaleBackup in 30 Seconds
The backup software and management dashboard are used by our partner network all over the world for performing safe, secure, encrypted incremental offsite backups for their business customers. Offering the ability to run scheduled or continuous backups. The backup software meets data compliance requirements and regulations for PCI and HIPAA. As an IDrive alternative backup solution, you will find everything you need and more to successfully run your backup business. 
Check Out the Backup Ops Web Console – A Brief Walkthrough Video

In this video, we do a quick overview of the Backup Ops Web Console from WholesaleBackup. Covering all of the main features:
Dashboard
Brands
Storage
Transfers
Remote Manager
Servers
Users
Reports & Email
What Our Partners Are Saying About Our IDrive Alternative Backup Software
"After using another white-label cloud backup solution for years, switching to WholesaleBackup has been a lifesaver. Much less maintenance, cost, bandwidth, and the U.S.-based support is stellar.  The software and interface is so much simpler and easy to use. I would recommend WholesaleBackup to any MSP looking to streamline their cloud backup system."  [Learn more about the Backup for MSPs Reseller Program.]
Beau Odom – COO, PCSI Managed IT Solutions
Start a Trial Now of Your Own Branded Offsite Backup Software
Ready to get started with your IDrive alternative trial? It takes less than 5 minutes to spin up your own backup platform that includes your own management dashboard and branded backup software installers, that are ready to deploy on Windows & macOS servers, workstations, and laptops.
Enhancing Data Security with WholesaleBackup
In an era where data is king, securing your business-critical information is paramount. That's where WholesaleBackup steps in as the ultimate guardian of your digital assets.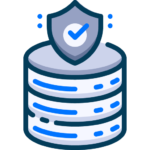 Advanced Data Encryption: When it comes to data security, WholesaleBackup takes no shortcuts. Our software employs AES-256 encryption, a cipher approved by the NSA for safeguarding top-secret information. This level of encryption is also trusted by major banks and the Federal Reserve. Your data remains impenetrable to unauthorized access, ensuring your business's confidentiality and integrity.
Compliance Made Simple: For businesses dealing with sensitive information, compliance with industry regulations is non-negotiable. WholesaleBackup simplifies this complex landscape by offering solutions that adhere to PCI DSS compliance for payment card industry players and HIPAA compliance for healthcare organizations. Say goodbye to compliance headaches and confidently expand into these lucrative sectors.
Tailored Storage Control: We understand that every business has unique storage requirements. With WholesaleBackup, you have the power to choose your storage destiny. Whether you prefer self-hosting on your infrastructure or leveraging direct connections to cloud storage giants like Wasabi, AWS S3, or Google Cloud, you're in control. No hidden middleman fees, just the raw data costs, allowing you to maximize your profits.
Business Continuity at its Best: WholesaleBackup empowers you to create custom backup and disaster recovery plans. From bare-metal restores to remote backup management, our platform ensures that your business stays resilient even in the face of adversity.
When you migrate to WholesaleBackup, you're not just switching providers; you're adopting a holistic data security solution. Join countless businesses that have made the leap and experienced peace of mind like never before.
Make the switch today and fortify your data protection strategy with WholesaleBackup. Your data, your rules, our expertise.
Online Backup Business Guide