Selecting Software for your Online Backup Business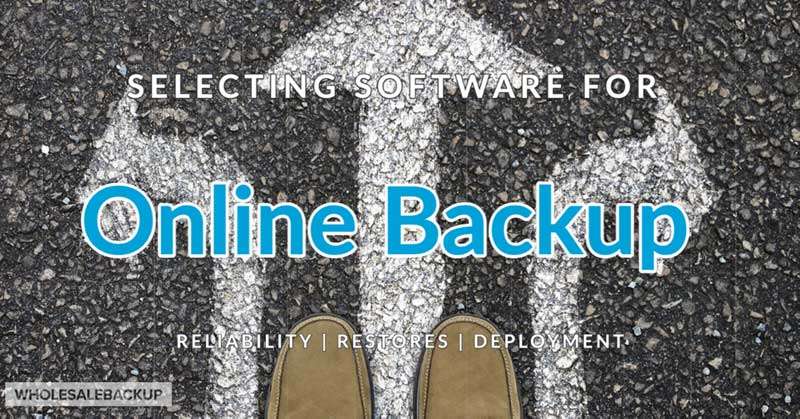 The starting point for analyzing which online backup software to use must be profitability: ultimately you want to make money at this business right?
We are biased – the best online backup software is WholesaleBackup!
But the funny part of the equation is that sustainable profit comes from balancing value to your customers and profit — after all customers pay you when they receive value. So what values do you need to give your customers and what will they pay for?
Reliability: customers don't want to mess about with their backup. They want to set it and forget it. In conducting online backup solution reviews, we have seen many packages that rely on the Windows Scheduler which is notoriously unreliable. Backups stop coming in and nobody notices! So the software had better deal with common issues like network drops, machines turning off, issues with VSS, and the like in two ways:

Good online backup software should notify you when your customers don't connect, so you can do something about it. Hopefully, it will notify you about what's causing the issue as well, so you can simply fix it rather than have to diagnose the issue manually.
Great online backup software will self-heal when these above issues happen, so all you have to do is wait and the problem will resolve itself.

Fast Restores: business customers want restores yesterday or sooner — their business depends on getting going again quickly! Commodity Online Backup similar to Mozy and Carbonite, along with most premium software packages similar to Novastor, Ahsay, & Asigra, not to mention no-name clones, all take slices or store patches of the files that have changed, but only store the slices of the data that have changed on the server, meaning restores can take hours or days! WholesaleBackup's innovation here is to store the entire file at a backup time in a way so you can immediately download the file. Think of a 10GB database that you're backing up every day. In a typical 30-day retention scheme, you will have one 10GB file, plus 29 "slices/patches" with say 100MB of patching information in each. So before you can download, you have to re-create the 10GB file 29 times: that's 290GB that you have to write before the download starts!!! This is obviously a very bad way to serve your customers, which is why we changed the game by having that day's backup file ready to go, but still using differentials for transfer to speed performance.
Fast deployment and configuration: You're in the business of serving your customers. You don't get extra profit for fiddling with settings for hours or tweaking settings left and right to get things set up or changed. Look for a package that offers changes to the configuration from a central server, and one where much of the installation and configuration is automated. The best online backup software for backup services also has self-tuning transmission, compression, and differentials: WholesaleBackup auto-tunes the processing of each file separately for optimum results!
There are probably a million other features that you could ask for, but if you want the truth, you should plan to invest some time to test any software you are about to use, and ask yourself the following questions:
How stable is the server?
How easy is it to support my clients?
How reliable and stable are the backups?
How fast and reliable are the restores?
What license do I need to run the Server?  OS? Database?  What does that cost?
How many users and how much data can a server handle?
Does it run where I need it to run?
How secure is the server?
Can I customize the server to fit in my environment?
Does it have an open interface for billing and data exports?
Can I make the server compliant with my security standards?
Does it automatically send emails to alert you of errors or issues that need attention?
Where do I go when I need help?
How easy is it to deploy client licenses?