USING WHOLESALEBACKUP WHITE LABEL BACKUP SOFTWARE YOU CAN QUICKLY DEPLOY A BRANDED CLOUD BACKUP SERVICE OR HOST IT YOURSELF
Your brand on the software, and keep all the profit. WholesaleBackup has been creating Backup Software for Service Providers for over 15 years.
Store backups on your cloud or server
Using WholesaleBackup white label backup software for service providers you can get started offering backup service using our Windows Backup Server or use no server and store backup data in the cloud with one of our Cloud storage options (Amazon, Google, or Wasabi – with no markups on cost from us).
Your free trial includes all features
Your test trial includes an unlocked fully functional version of the backup software.
This also includes your brand on it ready to go. Monthly subscriptions for the using backup software after the free trial start at $150/month.
 Get started quickly, with minimal costs
You save time because our server and client installs are quick and simple.
You save money because our licensing is simply based on how many clients you deploy.
YOUR WHITE LABEL BACKUP SOLUTION
INCLUDES THE FOLLOWING FOR ONLY $150 PER MONTH
WholesaleBackup offers a full suite to manage your backup service
The backup client installs on all versions of Windows desktops, workstations, and servers

You can create multiple brands

Over 15 years of creating backup software for service providers

You can manage each brand using our centralized backup management console

You can create a backup brand for the white label Backup Server platform

You can create a backup brand for the Amazon S3 cloud storage option

You can create a backup brand for the Google Cloud storage option
VARs, MSPs, Resellers, and Channel Partners
Really enjoy that fact that they can keep a consistent brand identity with their customers while using our white label backup software. 

Enjoy the ease of scalability and fair pricing based on usage.

We provide guides, resources and advice on running your online backup business

We have helpful, responsive support when you need it

Offering you over 10 years of expertise in the backup business

We do not charge extra for Exchange, SQL, or cloud storage like others
You will make good profits and run the business easily
Enjoy technology focused on reducing technical issues like self-healing storage, cutting-edge automatic optimization of file transfers, proactive alerting for you and clients, and a central management console for you as well as for your customers, so you will save time managing the backup platform

You can charge more for your service with WholesaleBackup because we offer unmatched performance with Instant Restore technology, the ability to handle huge datasets, and a Zero-config client installer to speed installs for customers.
Your brand on the software
Upload your logo while creating your custom build.
No co-branding
We do not put our logo on the software.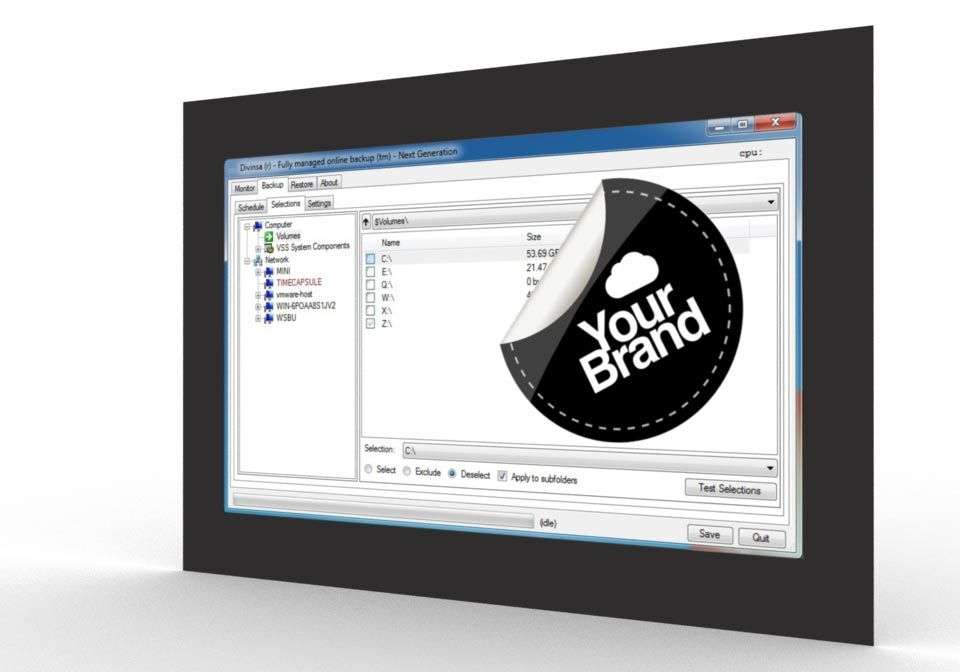 SELECT YOUR WHITE LABEL ONLINE BACKUP SOFTWARE FOR PROVIDING BACKUP SERVICE THAT WORKS FOR YOU.
SELECT THE CLOUD MODEL FOR ONLINE CLOUD STORAGE OR CHOOSE THE SERVER MODEL TO USE A SERVER TO STORE BACKUP DATA AND BUILD YOUR BRANDED BACKUP PLATFORM IN MINUTES!
A LITTLE ABOUT WHOLESALEBACKUP
THE WHITE LABEL BACKUP SOFTWARE PROVIDERS
WholesaleBackup has been providing online backup software for service providers for over ten years. We are continually making enhancements and improvement to our white label cloud backup platform based on the feedback we receive from our online backup resellers, cloud backup providers, and online backup partners.
Some people ask us: "what is white label software?". The short answer is: We build the software and maintain it, we license it to you, and you put your business logo on it. That way your customers only see the online backup services with your business logo on the software, so it does not look like you are using a third party product. There is more history on the white labeling of products found here. [Wikipedia]
PARTNER WITH WHOLESALEBACKUP TODAY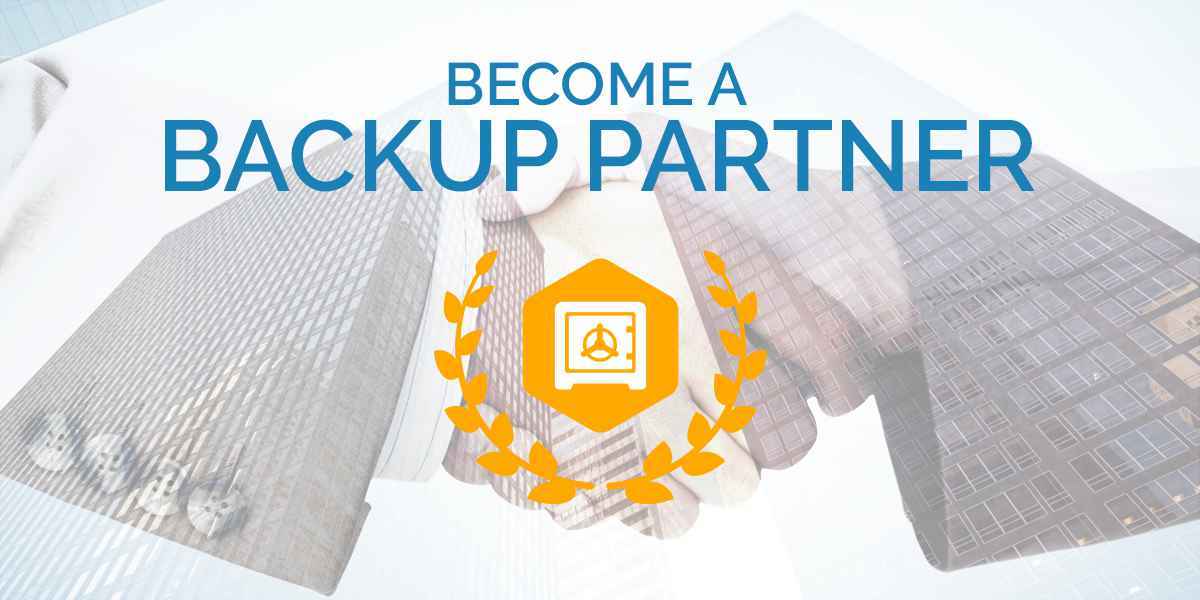 Free server software licenses

Free brandable white label client

Free software support

Free upgrades

Month-to-month agreement

Central management of your backup operations with the Web Console

The ability to backup SQL

The ability to backup Exchange

The ability to backup Outlook

Includes a Local backup Vault
Includes a Remote backup Vault

Retention Settings

Versioning Settings

Disk imaging

Bare Metal Restore (BMR)

Windows 10 ready

HIPPA Compliant

PCI Compliant

AES 256 Encryption

Use your own server or cheap cloud storage
START YOUR ONLINE BACKUP BUSINESS FOR $150 PER MONTH
When you join WholesaleBackup you are able to offer offsite remote backup services to customers who value data integrity and have strict compliance policies. Such as medical and healthcare prospects, legal groups and law firms, government contractors, and organizations with confidence, because your backup service is fully compliant.
If you need help, we're here and ready to help
You will be talking to a support person from the Pacific Northwest

You get answers because our support people are real experts in online backup and running an online backup business

We want you to succeed (see for example: "

Starting an Online Business – A How To Guide

")