Tailor your service specifically to your customers
The more specific your service fits the perceived and actual needs of your customers the higher value it is to them.
The more you can tailor backup service to customers' needs the more they'll be willing to pay, the more differentiated your service will be from your competitors, and the more confidence you will have in selling it.  It's that simple.  If you are solving a real problem for your customers cheaper or better than they can solve it for themselves (assuming they have the knowledge and skills to do so), the easier and faster you will grow.
Adapting to your customers
From our experience, established IT consultants, MSPs, ISPs, ISVs, hosting companies, and data centers can tailor backup service to customers' needs more quickly to their market than can companies who are new to their markets.  This is because they actually know their customer's needs, are confident in the ability of their service to solve their customer's needs, and know-how to price their service fairly.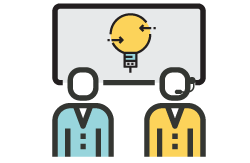 A word of caution, from our experience, some established MSPs and IT consultants fail in offering an online backup solution because they don't understand the actual value they are providing their customers vs. a consumer service so they either price as a consumer service (which, you'll learn later in this document, means they'll lose money doing so) or fail to differentiate with their clients the importance of using their own service instead of a consumer service – this seems to most often happen with small to midsize IT consulting groups whose actual field technicians are expected to "sell" the service and they aren't appropriately trained, knowledgeable, or confident.
See a need fill a need
So, knowing what your customer needs in a backup solution and tailoring your service specifically to this need (rather than in competition with hypothetical competitors) is essential to growing a profitable online backup business, whether it is your sole focus (i.e. you are a pure-play online backup provider) or as an added value service which complements your existing product/service portfolio.  More often than not, your customer's needs are not for specific technical features, rather they need service and support from a trustworthy vendor who will ensure their backups are actually working and who will get them back up and running ASAP when things go wrong (which is the purpose of backing up, isn't it?).
You Just Completed
Next Section